Exclusively we are offering you for rent a newly refurbished, spacious air-conditioned 4 room flat on Zehrianska Str., in district Petrzalka. The flat is situated on the 7-th floor of 8-th floor reconstruted apartment building with a lift. with total usable area of 81,7 m2 + loggia

Thanks to cleverly measured location, what immediately catches your attention and is accessible from all four rooms is the hall. The flat is spacious with sufficiently large living room, two separate bedrooms, kitchen with a balcony and one slightly smaller room which can be used as a study, bathroom and a separate toilet, all at your disposal. The flat is to be rented completely furnished, and if required by the tenants can be furnished according to their needs.

The owners furnished the flat which is after the complete reconstrution with top quality furniture, using higher standard materials to achieve a modern looking interior. Just to mention a few of the materials used in the flat such as a new interior door made of solid wood, Tupai- luxury design ironwork ,Marmoleum-one of the best quality floors on the market, a genuine crystal chandeliers fitted on the ceiling, all the beds made from solid wood, all rooms air conditioned,security doors instaled.

The bedroom has a feel of luxury, with stylish wallpapers on the walls, crystal chandelier on the ceiling, double bed, built-in wardrobes, the second bedroom almost identical with the first one, with 2 single beds instead. The largest is the living room with a massive table, two armchairs, chest of drawers, drapery and a crystal chandelier. The smallest room of all in the flat can serve as office. The kitchen is separate, newly refurbished and fitted with a gas stove and a refrigerator. The loggia is accesible from the kitchen as well. There is a bathub in the bathroom and a washing machine with thumble dryer too. The toilet is separate. The internet access is available in the flat as well. The apartment building was recently completely refurbished including isulation, new lifts, front doors, doorbells, new, clean reconstructed common area. Parking space available.

The flat is suitable for a more demanding clients with maximum 2-3 people occupying it. The owners prefer a respecatable professional person (a lawyer or similar) but it is not a condition.

All the amenities are availalable in the vicinity- e.g supermarket, public shools, kindergartens, restaurant, hospital Antolska, very good public transport access, great access to Bratislava ring road and main motorway routes.
Danube embankment round the corner with sports activities to enjoy.

Rent 800 eur/ month + 220 eur / month energy cost (including Internet). You do not pay a commission for a real estate agency

If you are interested in property inspection or other information call.

[i]Real estate agent: Ing. Dana Idesová, kontakt: 0901 900 222, email: ldesova@grahams.sk


Upozornenie: Popis nehnuteľnosti - text a fotodokumentácia sú majetkom a autorským dielom spoločnosti Grahams © Copyright Grahams.

Listing summary
fee included
7
8
4
81.7 m²
81.7 m²
fully re-made
active
Microwave transmission
bath
central
3.71 m²
no
yes
public
rack
furnished
yes
yes
plastic
Location of the property
Žehrianska, Bratislava - Petržalka, Slovakia
For more information please contact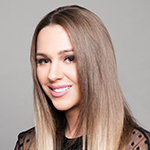 Ing. Dana Idesová
Real Estate Agent


0901 900 222
idesova@grahams.sk
Broker has 13 listings assigned